On September 20, 1944, 48 American soldiers lost their lives during the heroic crossing of the River Waal at Nijmegen. A memorial commemorates this military action. And a role of honour lists the names of these men. A new city bridge opened in 2013 connecting the banks of the Waal on the exact location of this historical crossing.
Lights Crossing is the title of an integrated work of art by Atelier Veldwerk. It marks the bridge as a monument and makes it the largest war memorial in the Netherlands. Every single day when darkness falls the 48 pairs of lights repeat the meaningful crossing.
Als bij zonsondergang 48 paren lantaarns één voor één, in een trage pas de oversteek maken staan we heel even stil bij dat ene moment. Het moment waar op 20 september 1944, 48 Amerikaanse soldaten bij de heldhaftige oversteek van de Waal bij Nijmegen om het leven kwamen. Een monument op de noordoever gedenkt deze gebeurtenis en toont de namen van de gevallenen. De in 2013 geopende nieuwe stadsbrug ligt exact op de plaats van die historische oversteek.
Het kunstwerk Lights Crossing van Atelier Veldwerk maakt de brug als geheel tot monument. Iedere dag opnieuw, bij het invallen van de duisternis, wordt de betekenisvolle oversteek herhaald door 48 paren lichtmasten.
Klik op de afbeelding.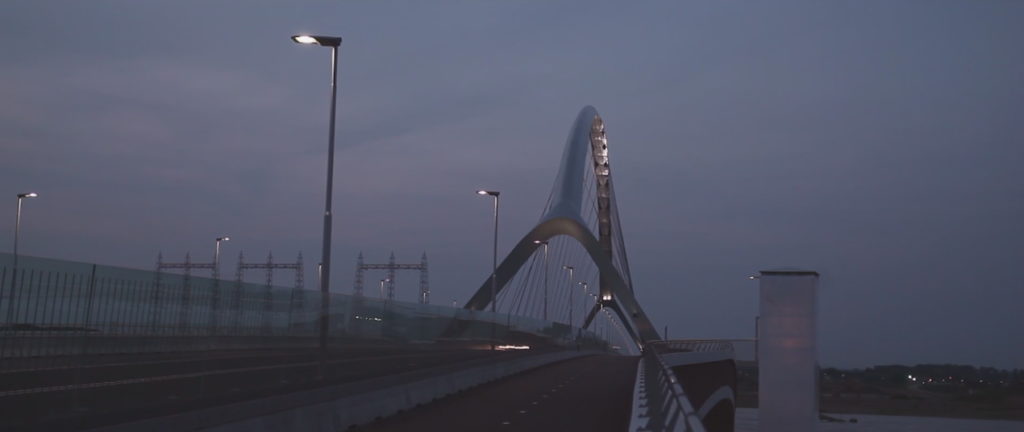 Lights Crossing, from Martijn Schinkel .